Bayern Munich 2-3 PSG: Champions League quarter-final – as it happened
Kylian Mbappe scored twice as PSG took a slight advantage back to Paris after an astonishing match between last year's finalists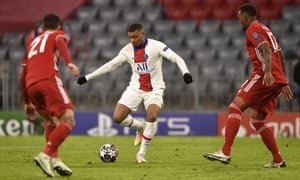 Key events
Show
9.53pm

BST

21:53

Full time: Bayern Munich 2-3 Paris Saint-Germain

9.28pm

BST

21:28

GOAL! Bayern Munich 2-3 PSG (Mbappe 68)

9.21pm

BST

21:21

GOAL! Bayern 2-2 Paris Saint-Germain (Muller 60)

8.51pm

BST

20:51

Half time: Bayern 1-2 Paris Saint-Germain

8.37pm

BST

20:37

GOAL! Bayern 1-2 Paris Saint-Germain (Choupo-Moting 37)

8.29pm

BST

20:29

GOAL! Bayern 0-2 Paris Saint-Germain (Marquinhos 28)

8.03pm

BST

20:03

GOAL! Bayern 0-1 Paris Saint-Germain (Mbappe 3)
Live feed
Show
10.11pm BST22:11
Barney Ronay has filed his report, so I'll leave you with that. Thanks for your company - goodnight!
10.04pm BST22:04
I can't stop thinking about the pace and intensity of that game. It's so easy to get carried away in the moment but I'm honestly struggling to recall anything comparable, certainly not between two of Europe's best teams. It was as if both teams had been told a bomb would go off if the match ever dropped below 50 miles an hour.
9.58pm BST21:58
Bayern dominated all the statistics except the big one. PSG spent most of the game in their own third, but they were devastating on the counter-attack. When I say 'they', I really mean Kylian Mbappe: he scored twice, to go with a majestic hat-trick at Barcelona in the previous round, and gave Bayern's defence the heebie-jeebies throughout.
In many ways Bayern played astonishingly well, particularly in the 32 minutes it took them to come from 2-0 down to equalise, and they'll still fancy their chances in Paris next week. They won't fancy another night of chasing Mbappe, mind.
9.53pm BST21:53
Full time: Bayern Munich 2-3 Paris Saint-Germain
Next Tuesday, same time, don't be late. That was a quite stunning game of football, played on fast-forward throughout. I don't know about you but I need a lie down, and I'm neutral.
Updated at 9.54pm BST
9.51pm BST21:51
90 min Rafinha replaces Neymar. There will be two added minutes.
9.51pm BST21:51
89 min Choupo-Moting is booked for dissent after aggressively appealing for a penalty. A low cross from Muller definitely hit the hand of Herrera, but he slipped and the referee let him off because of that. Moments later, somebody flicks a header over the bar. I DON'T KNOW, OKAY.
9.49pm BST21:49
88 min Alaba has a shot blocked by Herrera. The rebound goes to Coman, who forces Danilo to concede a corner. That leads to yet another blocked shot from a Bayern player.
9.48pm BST21:48
87 min Coman's cross is dummied neatly by Choupo-Moting and reaches Muller near the penalty spot. His shot on the turn hits his standing foot and spins just wide of goal. Navas had it covered and may even have got a touch, though a goalkick was given.
9.47pm BST21:47
86 min: Just wide from Alaba! Sane's short cross found Choupo-Moting with his back to goal, eight yards out and surrounded by PSG defenders. He laid it back to Alaba, whose low shot from the edge of the area went this far wide.
Updated at 9.47pm BST
9.46pm BST21:46
85 min A poor clearance goes to Draxler, 25 yards from goal. He pushes the ball forward and smacks a shot miles over the bar.
9.45pm BST21:45
85 min According to the Uefa site, Bayern have had 25 attempts (including blocked shots) to PSG's five. And Kylian Mbappe couldn't care less about such stats.
9.43pm BST21:43
83 min For the first time all night, Bayern look slightly subdued in attack. If it stays like this, they'll need to win 2-0 in Paris to go through (or 3-1, 4-3, 5-4, etc).
9.42pm BST21:42
81 min A relatively quiet couple of minutes, in which the pace of the game dropped to merely breakneck.
9.39pm BST21:39
78 min "Hi Rob," says David Hindle. "Is it perhaps apt to point out that the ridiculously young, already World Cup-winning Mbappe is what a €150M forward actually looks like?"
9.39pm BST21:39
77 min Navas makes another big save from Choupo-Moting,though he was miles offside and the flag went up afterwards.
Updated at 9.39pm BST
9.37pm BST21:37
75 min I don't know whether this is one of the all-time great Champions League games, because some of the defending has been pretty ropey, but I can't remember seeing a game - certainly not between two teams of this stature - with such relentless pace and intensity.
Updated at 9.38pm BST
9.36pm BST21:36
73 min Choupo-Moting breaks innto space down the right but picks up the wrong option. Then Bayern appeal unsuccessfully for a penalty when Danilo goes through Davies. We haven't seen a replay yet beCAUSE THERE'S NO BLOODY TIME.
9.32pm BST21:32
71 min Angel Di Maria is going to be replaced by Moise Kean. He is feeling his hamstring, though it looks more like a strain than a tear so he might be okay for the second leg.
9.31pm BST21:31
70 min Choupo-Moting shoots straight at Navas, Kimmich is booked for dissent. I cannot keep up with this.
9.31pm BST21:31
What a devastating counter-attack from PSG. They covered 50 yards in just two passes, first from Draxler and then from Di Maria towards Mbappe on the left. He was one-on-one with Boateng, who looked terrified as he backpedalled into the area. Mbappe shapes to shoot across goal before dragging a shot that goes through Boateng's legs and beats the wrongfooted Neuer at the near post. That is a brilliant goal!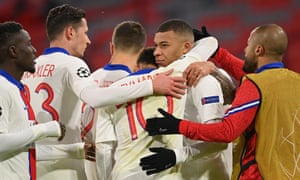 Updated at 10.00pm BST
9.28pm BST21:28
GOAL! Bayern Munich 2-3 PSG (Mbappe 68)
Another twist in this sensational match!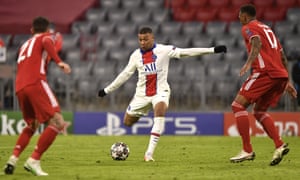 Updated at 9.59pm BST
9.27pm BST21:27
66 min There's a second leg next Tuesday as well.
9.25pm BST21:25
64 min Davies makes a vital interception to stop Mbappe's pass putting Di Maria through on goal.
9.24pm BST21:24
63 min An overhead kick from Muller goes well wide. The intensity of Bayern's response to going 2-0 down has been awesome, and PSG simply cannot get out.
9.22pm BST21:22
62 min Draxler is booked for flattening Pavard.
9.22pm BST21:22
It was made by Kimmich, who curled in yet another wicked free-kick from the right. Muller found some space at the edge of the six-yard box - goodness knows how - and flicked a superb header across Navas.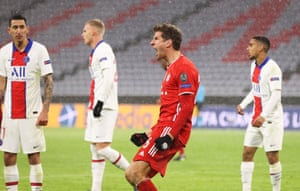 Updated at 9.29pm BST
9.21pm BST21:21
GOAL! Bayern 2-2 Paris Saint-Germain (Muller 60)
Bayern are level!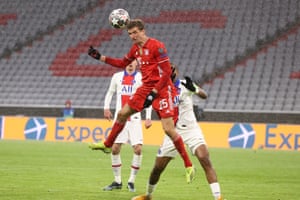 Updated at 9.25pm BST
9.20pm BST21:20
60 min This is frickin sensational stuff.
9.20pm BST21:20
58 min Kimmich plays a superb return pass to release Sane on the right side of the area. He decides not to shoot and instead slides a low cross that is desperately cleared. The ball eventually comes to Kimmich, 25 yards out, and he floats a chip that is easily saved by Navas. He was so confident, in fact, that he controlled the ball on his chest and then picked it up. PSG break and Neuer denies Mbappe in a one-on-one! The flag went up afterwards, but Neuer didn't know that at the time.
Updated at 9.21pm BST
9.17pm BST21:17
56 min Sane smashes over from the right side of the area. Bayern are having a shot on goal every minute at the moment.
9.16pm BST21:16
56 min The next goal in this tie is of monstrous importance. This has been a helluva game.
9.16pm BST21:16
55 min PSG are under so much pressure. Coman cuts inside from the left and hits a long-range shot that is comfortably saved by Navas. Just before that, Danilo produced a superb defensive header under extreme pressure from Choupo-Moting.
Updated at 9.17pm BST
9.15pm BST21:15
53 min The resulting corner is only half cleared, and when the ball is dumped back into the area Pavard meets it with a low volley. Navas makes another decent save to his left.
9.14pm BST21:14
53 min: Good save from Navas! Bayern work the ball superbly in a tight area to set up Alaba in the D. He sweeps a shot that is pushed behind by Navas, falling to his left. It was nowhere near the corner from Alaba.
9.12pm BST21:12
52 min: Big save from Neuer! Mbappe nicked the ball off Sane just outside the area and went straight for goal. He was tackled but the loose ball was stolen by Neymar, who danced clear and lifted a close-range shot that was blocked by Neuer. The ball ran to Di Maria, whose low shot was kicked off the line by Davies!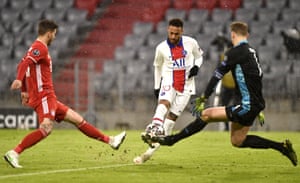 Updated at 9.24pm BST
9.10pm BST21:10
50 min A Bayern corner is cleared to the edge of the area, where Coman mistimes an attempted volley. It's been all Bayern at the start of the second half.
9.08pm BST21:08
48 min Coman's angled cross from the left is this close to the head of Kimmich, who seemed to hang in the air for an age. I'm not entirely sure how PSG cleared it, but they did.
9.05pm BST21:05
46 min Peep peep! Bayern begin the second half.
9.04pm BST21:04
PSG have made a half-time substitution: the young Dutch left-back Mitchel Bakker is on for Abdou Diallo. That's already the fourth substitution of the game.
9.03pm BST21:03
"Hi there Rob," says Francis Lee. "What law of physical chemistry explains how, while the snow is visibly slowing down the ball, the pace of play seem to have reached some new level of hyperacceleration?"
It's the immutable law of the early goal.
8.51pm BST20:51
Half time: Bayern 1-2 Paris Saint-Germain
That was 45 minutes of sheer, delightful football. Kylian Mbappe smashed PSG into an early lead, Marquinhos coolly made it 2-0 before going off injured, and then the former PSG player Eric Choupo-Moting got Bayern back into it with an emphatic header.
Bayern dominated possession and created most of the chances, but when PSG managed to break the press they were so menacing. Goodness knows what the final score will be, but I promise you one thing: this won't finish 0-0.
Updated at 8.52pm BST
8.46pm BST20:46
45 min Two minutes of added time, and Bayern are on the attack. Kimmich's outswinging corner is headed towards goal by the backpedalling Muller, and Navas dances across his line to make a comfortable save.
8.45pm BST20:45
44 min The corner leads to a brief game of head tennis until Kimpembe blooters the ball to safety.
8.44pm BST20:44
44 min Another marvellous free-kick from Kimmich on the right is put behind by Danilo, an excellent piece of defending.
8.43pm BST20:43
43 min In normal circumstances, with crowds at both games, Bayern would be in all sorts of bother here. But we know that home advantage is minimal at the moment, so they are still right in this tie. They have played brillantly for most of the first half.
8.43pm BST20:43
42 min Another Bayern substitution: Jerome Boateng replaces Niklas Sule. He doesn't look injured...
8.40pm BST20:40
38 min Neuer comes out of his area and plays a very dodgy pass that just evades the wrongfooted Di Maria. Had the ball gone to Di Maria he'd have had a relatively easy finish from 40 yards, with Neuer miles out of his goal.
Updated at 8.41pm BST
8.38pm BST20:38
The right-back Pavard flipped a nice cross into the middle, where the unmarked Choupo-Moting thumped a downward header into the corner. That was another very accomplished finish; Navas had no chance.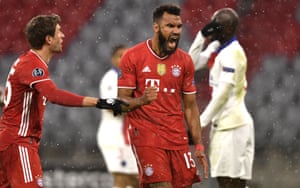 Updated at 9.07pm BST
8.37pm BST20:37
GOAL! Bayern 1-2 Paris Saint-Germain (Choupo-Moting 37)
Bayern are back in it!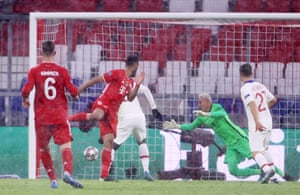 Updated at 8.44pm BST
8.36pm BST20:36
35 min Hernandez is booked for blocking Dagba off the ball.
8.35pm BST20:35
34 min Replays suggest Hernandez didn't get the ball when he tackled Neymar a couple of minutes ago. That could have been a penalty, albeit a soft one.
8.34pm BST20:34
33 min A Bayern substitution: Alphonso Davies is replacing Leon Goretzka. That must be an injury, surely. Davies has gone to left-back, with Hernandez moving to the centre of defence and Alaba into midfield.
8.32pm BST20:32
32 min Neymar swaggers into the area and is about to shoot when Hernandez makes a vital tackle. This is glorious entertainment!
8.32pm BST20:32
31 min Danilo has moved to centre-back, with Herrera replacing him in midfield.
8.31pm BST20:31
30 min That was such an accomplished finish from Marquinhos - but it's his last contribution tonight. He is leaving the field through injury, with Ander Herrera coming on to replace him. That's such a big blow for PSG.
8.30pm BST20:30
A PSG corner was half cleared to Neymar, 40 yards from goal. He curled the ball over the outrushing Bayern defence towards Marquinhos, who controlled the ball immaculately and guided it confidently past Neuer. He timed his run beautifully, and replays confirmed he was well onside.
Updated at 8.37pm BST
8.29pm BST20:29
GOAL! Bayern 0-2 Paris Saint-Germain (Marquinhos 28)
Make that 2-0 down!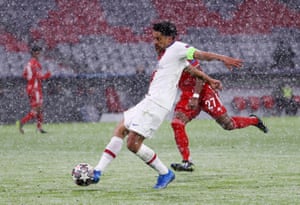 Updated at 8.33pm BST